Hi everyone! Welcome back to my website! This Thursday, I don't have a whole lot of updates, but updates are updates. Let's get started!
First of all, I haven't done a whole lot in concerning the next episode of my stop-motion series called Planet of the Dinosaurs, but I am still working on it. I'm hoping this episode (which will be the third episode of the series) will be released in either late August or September at the latest. Right now, it stands at 55% in completion, so I'll keep you posted.
In the past week or two, there have been no updates dealing with several of the movies I've been posting updates on: process on movies such as Walking with Dinosaurs 3D, Jurassic Park IV, The Good Dinosaur have been rather hush, hush. However, I recently was surfing the internet when I found out about another movie soon to be released! If you're a fan of the Alcon Entertainmnt movie Dolphin Tale, which was released in 2011, you'll be pleased to know that the creators of that movie have decided to go ahead with (you guessed it!) a sequel! I for one think that's an awesome idea because I totally love the movie Dolphin Tale!
The theatrical poster for the first film, released in 2011.
But for those of you who might have never seen Dolphin Tale, it's based on the true story of a young female dolphin, later named Winter, who washed up on a beach in Florida with her tail caught in a crab trap. In the film, a boy named Sawyer Nelson (Nathan Gambles) quickly develops a relationship with the dolphin who is taken to the Clearwater Marine Hospital. The dolphin's tail unfortunately is too infected to remain on poor Winter and it's amputated off. But the heroes of the movie have a plan: give her a prosthetic tail!
This is Winter without her prosthetic tail
Dolphin Tale was a box office success, so it makes since that Alcon Entertainment would want to go ahead with a sequel. I know many times, sequels to movies often stink in comparison to the original, but Dolphin Tale 2 might be different. Why? Well, it's also based on a true story; while Winter will probably make an appearance in this film, the film's going to be inspired by another dolphin's true story: the rescue of a dolphin named Hope, who was rescued in 2010 and still lives at the Clearwater Marine Hospital alongside Winter (by the way, Winter played herself in Dolphin Tale). And alongside these marine mammal stars, the original cast from the first film, including Nathan Gamble as Sawyer Nelson, Harry Connick Jr. as Dr. Clay Haskett, Hazel's dad and Reed's son, Ashley Judd as Lorraine Nelson, Sawyer's mom, Kris Kristofferson as Reed Haskett, Hazel's grandfather and Dr. Clay's father, Morgan Freeman as Dr. Cameron McCarthy, Austin Stowell as Kyle Connellan, Sawyer's cousin and Cozi Zuehlsdorff as Hazel Hasket, Dr. Clay's daughter and Reed's granddaughter.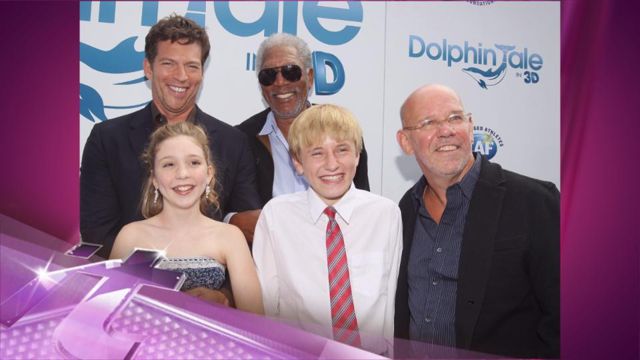 This photo includes some of the movie's cast: Harry Connick Jr. (rear left), Morgan Freeman (rear center), Cozi Zuehlsdorff (front left) and Nathan Gambles (front center).
Dolphin Tale 2 will be released on September 9, 2014, so let's hear it for Winter!
I love it when I'm outside at night and the fireflies start coming out. I always try to catch a few of them and then watched as they flew away, off my hand. Fireflies are so much fun and just beautiful in the dark. They light up the night and are enjoyed by pretty much everyone.
This is a Japanese Firefly showing off its glowing tail.
Fireflies also known as lightening bugs light up because of a chemical reaction called bioluminescence. As a larvae however, the light is used to mostly warn enemies. Some people believe that the light is also used during mating season. Female fireflies tend to use the light for attracting males. However there are some fireflies that don't glow. Those lightening bugs have large antennas and small eyes.
The top photo was taken with the flash on, and the bottom picture was taken with it off to show the firefly's glow.
Night time is full of life but either we're too busy or already asleep to see it happen. There is practically a whole new world outside when the sun goes down and the moon and stars come up. You will see raccoons and owls, fireflies and Mosquitos, but most importantly, you will always see light at night and in the daytime. How much have you taken light and electricity for granted?
This is a beautiful picture of fireflies shining away in a pine forest.
Thanks for stopping by today! Next week, we'll learn about the ancient fauna that used to exist on Antarctica before it turned to the desolate and freezing cold continent of today! Until next time, goodbye!
PS: To post a comment (this is highly encouraged), please simply click the post you wish to comment on, scroll to the bottom of the page and put what you wish to say or ask in the comment box. Then in the box below the comment box choose who you're going to comment as. And then click preview or publish. If you aren't signed into Google, you'll be asked to type in a word and a number in the space provided. Type the word, put a space and then put the number. Then your comment is on the blog!
PS 2: Have a puzzling question about animals (including dinosaurs), myself, my latest book, my stop-motion movies, Creation or etc? Please post your question as a comment or send me an email at
animaladventures@aol.com
.
PS 4: Be sure to comment on the latest stop-motion movies too, this will help me improve them.